Registration for this event has been disabled.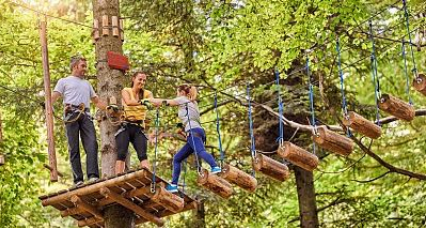 Please note: this course will be delivered in both English and Chinese. Bilingual facilitators will be available on the day. There will be a shuttle bus set off from(and return to)the Shangri-la Hotel Tianjin. Only 20 seats available, so please RSVP as soon as possible.
Do you feel tired at work? Do you feel the urge to get out and enjoy the last bright warm days of summer before they slip away? If you answered yes, you should join us on September 19th to visit the Spring Rock International Camp, a unique outdoor classroom that will engage you mentally, physically and emotionally for true positive changes. While enjoying the beautiful natural environment nearby, you will also have opportunity to challenge yourself!
Our courses include a world-class 17-stage-high ropes course and a variety of ground-level initiatives, which are all designed and constructed by international outdoor professionals. The course has also been certified by the ACCT (Association of Challenge Course Technology), the global leader of the challenge course community.
How will you benefit?
Learn to overcome fear & pressure
Learn to communicate better with others by supporting, encouraging, and listening to your team
Your organization will grow in many areas including:
Mission & Vision Clarity
Leadership Development
Communication and Teambuilding
Creativity, Innovation & Idea Discovery
Conflict Management & Resolution
Registration:
Cardholding members: RMB 650
Employee of member companies: RMB 700
Non-members: RMB 900
Children ages 9 and up: RMB650
Children under 9: RMB 250 (cannot join the ropes course activities)
Please note: Attendees must register and pay in advance, fees include transportation, training and facilities, breakfast and lunch and insurance.